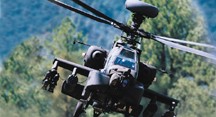 Excelitas Technologies Corp. will feature its wide variety of sensors, detectors and weapon sights at SPIE Defense + Commercial Sensing.
Solutions on display in Excelitas' exhibit (booth 358) include:
YAG-Optimized Quadrant Detectors: YAG-Optimized Quadrant Detectors are used in precision-guided munitions guidance systems to detect laser designators and help guide munitions to the intended target. Several YAG detectors will be on display, including YAG-444-4AH, YAG-444N-4AH and YAG-555-4AH quadrant photodiodes, which feature a circular active area with four pie-shaped quadrant sections created from the doping process, each with an isolated signal lead.
Laser Range Finding Solutions: Excelitas' emitters and detectors are designed to meet laser range finding requirements for standard and military-spec applications. Offering both standard off-the-shelf and customer-specific designs, Excelitas will highlight its popular Silicon and InGaAs Avalanche Photodiodes (APD), Hybrid PIN and APD Receiver Modules, and High-Power Laser Diodes.
Enabling Sensors for Laser Warning Systems: As a leading supplier of off-the-shelf and customer specific laser warning detectors, Excelitas' range of sensors are used to identify three types of laser threats: beam riding detection, laser range finding and target designation.
Weapon Sights: Excelitas offers some of the world's leading night vision and thermal weapon aiming and target acquisition sights for a variety of platforms, including individual assault weapons, light support weapons, crew-served weapons, anti-tank/anti-materiel weapons and specialized sniper applications. Featured products include KITE and KITE In-Line Weapon Night Sights, DRAGON-C 640 Uncooled Thermal Imager Multi-Purpose Thermal Sights and DRAGON-S (Sniper) Clip On Thermal Weapon Sights.
Excelitas Booth 358, Anaheim Convention Center, Anaheim, California (US), 9 to 13 April, 2017