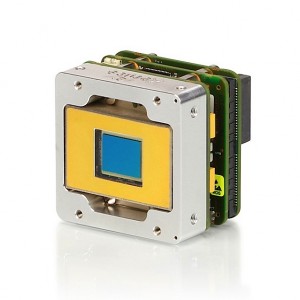 Xenics, a European developer and manufacturer of advanced infrared detectors, cameras and customized imaging solutions from the SWIR to the LWIR realm, comes to SPIE DCS 2017 to showcase its cameras for the security and commercial sensing market.
Of interest is the latest Tigris-640 cooled midwave infrared (MWIR) camera. This Stirling cooled MWIR camera made its appearance during the BiOS & Photonics West 2017 exhibition earlier this year and will return for demonstration during this event.
Xenics exhibits in booth 426 at the Anaheim Convention Center in Anaheim, California (US).
Cooled MWIR camera – Tigris-640
As a successor to the Onca MWIR camera, the Tigris-640 is a cooled MWIR camera equipped with an InSb or MCT detector with 640 x 512 pixels and pixel pitch of 15 μm. Both detectors also have BroadBand (BB) versions optionally, which allow their spectral sensitivity to be extended into the shortwave infrared band (SWIR). A motorized filter wheel is standard and the cameras are equipped with a variety of interfaces including GigE Vision, CameraLink, analog out, HD-SDI and a configurable trigger in-output, for maximum flexibility. The Tigris-640 (or its camera version XCO-640) can be used in a variety of security, R&D and industrial applications.
Xenics cores – Ready-to-integrate OEM modules
Also presented at SPIE DCS 2017 is the Xenics core series, consisting of the XSW, XCO and XTM camera cores, in the spectral bands of SWIR, MWIR and LWIR respectively.
The XSW and the XTM are both compact OEM camera modules that integrate into surveillance or monitoring systems. Both modules are power efficient, making them suitable for security applications such as infrared imaging in unmanned aerial vehicles (UAVs), systems to detect for example UAVs, or night vision border control.