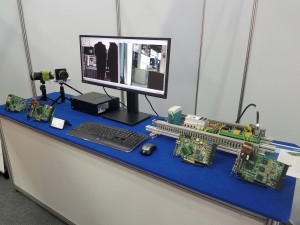 BitFlow, a supplier of frame grabbers for machine vision, has announced it will be exhibiting at the SPIE Defense + Commercial Sensing 2017 Conference from 9–13 April in Anaheim, California (US).
BitFlow will be showcasing its range of frame grabbers and introducing new products in booth number #359 at the Anaheim Convention Center.
BitFlow invites all SPIE visitors to a live demonstration at its booth of the Cyton-CXP4 CoaXPress frame grabber, especially integrators and designers responsible for migrating existing analog vision systems to faster, higher resolution digital imaging technologies. The demonstration will show Cyton-CXP4 frame grabbers connected to a single quad-link ultra high-resolution camera and to four standard resolution single-link cameras. Each camera runs independently yet acquires simultaneously, and together, the cameras handle 50 Gb/S of image data.
In addition the Cyton-CXP4, BitFlow will be exhibiting:
Aon-CXP single link frame grabbers are optimized for use with the newest generation of smaller, cooler operating CXP single link cameras. The Aon-CXP provides all the convenience of a GigE Vision or USB3 Vision system. It can exceed the cable lengths in many cases and provide machine vision features missing from GigE Vision or USB3 Vision camera systems, such as triggers, encoders, strobe, waveform generators and quadrature encoder support.
The BitBox I/O box is BitFlow's solution for high-density I/O applications. Many machine makers require a large number of computer-managed I/O signals for continuous control of the system state. In general, BitFlow frame grabbers come with a fairly large number of inputs and outputs, but for some system this is simply not enough.The BitBox has been designed for just this situation. It is controlled completely from the frame grabber and uses the same API, driver and manuals.
Axion CL frame grabbers are the sixth generation of BitFlow's Camera Link frame grabber line. The Axion CL is compatible with high-speed, high-performance Camera Link cameras including base, medium, full and 80-bit (10-tap) CL configurations.