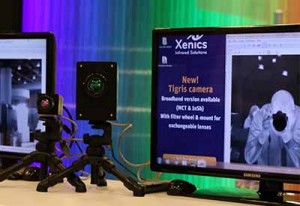 Xenics, a developer and manufacturer of advanced infrared detectors, cameras and customized imaging solutions from the SWIR to the LWIR realm, comes to SPIE Optics + Photonics 2017 to showcase its latest cameras.
For applications where high speed, high thermal sensitivity, on-board thermography or broadband detectors are required, the Tigris-640 will be presented during the event. The latest stirling cooled MWIR camera from Xenics has also made several appearances in exhibitions throughout the year.
Also on display during the upcoming exhibition is the Xeva-2.5-320 SWIR camera, designed for use in R&D applications like laser beam analysis and profiling, semiconductor inspection, hyperspectral imaging etc. where an extended SWIR range up to 2.5 μm is necessary.