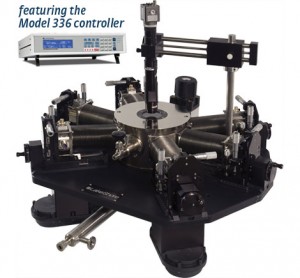 Lake Shore Cryotronics, a provider of solutions for measurement over a wide range of temperature and magnetic field conditions, will be attending the SPIE Optics + Photonics Exhibition in San Diego, California (US), 6–10 August 2017, to discuss a range of platforms optimized for the study of early-stage optical materials and devices.
High-performance solutions from Lake Shore include:
Cryogenic probe stations for performing electro-optical, DC, RF, microwave and THz-frequency (75 GHz and up) measurements of materials and devices, including photovoltaic materials and semiconductor optoelectronic devices, in a controlled, variable temperature environment. These test platforms provide superior results and productivity when compared with traditional methods requiring manual immersion of devices in liquid nitrogen. Versions include cryogen-free (CCR-based) models, integrated in-plane and out-of-plane magnet models and stations supporting backside optical illumination of a sample (ideal for examining photosensitive materials with topside metallization).

On display in Booth 460 will be the Model TTPX, an entry-level cryogenic probe station suited for device measurements.
Hall effect measurement systems for determining the mobility and carrier concentration of materials, including wafer-scale materials, as a function of temperature and field. These systems facilitate research applications, including photovoltaic, organic electronic, transparent conducting oxide, III-V and III-VI semiconductor research, and include an AC field Hall option for characterizing materials with low mobilities. Systems can also be specified with high and low resistance, variable temperature and oven options, as well as optical access for exposure of samples to different wavelengths of light via a laser or a fiber optic connection.
Soon-to-be-released MeasureReady Model 155 precision I/V sources. Suited for applications requiring a high-quality, low-noise source of current or voltage, these instruments provide a foundation for DC I-V and C-V curve, AC impedance, Hall effect, resistance, resistivity and other fundamental material measurements. In addition, they support very low power excitation of sensitive materials, like organics, and controlled characterization of low-resistance and superconducting materials. They feature a smartphone-based touchscreen interface, allowing for quick setup and use in labs regularly performing rapid testing of various devices.