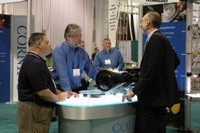 SPIE Optifab is a large optical fabrication event that takes place in North America every two years. SPIE Optifab 2013 will take place on 14-17 October 2013 at the Rochester Riverside Convention Center in Rochester, New York (US). SPIE Optifab 2013 has issued a call for papers. Abstracts are due 1 April.
Technical papers are invited in the following categories: optical manufacturing; design for manufacturing; materials and optical materials sciences; classical and automated fabrication; grinding, polishing and new methods of surface finishing; injection/glass molding, lithographic processing and chemical etching; process science; new developments in coatings technology; new developments in metrology; opto-mechanical design and fabrication; and interactivity and data interfaces among optical design programs, mechanical design programs, fabrication equipment and metrology instrumentation.
At Optifab 2013 you'll find research and industry, a format that lets you gain valuable insight into the optical fabrication market by maximizing the interaction among international researchers and manufacturers. Commercial papers in the following topics are also invited: developments in optical materials, new infrared materials, advanced optical fabrication equipment, coating equipment and metrology equipment.