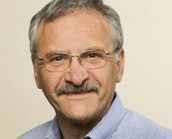 Norbert Pelc of Stanford University in California (US) will step in for University of Chicago professor Maryellen Giger as editor-in-chief of the Journal of Medical Imaging (JMI) for the 2018 calendar year.
Giger is stepping away to serve as president of the journal's publisher, SPIE, the international society for optics and photonics, during the year.
Pelc is professor of bioengineering and radiology and, by courtesy, of electrical engineering. He is the immediate past chair of the Department of Bioengineering and a member of the university's Bio-X, cardiovascular and cancer institutes.
He is an inventor on 95 US patents, an author of more than 200 peer-reviewed papers, and a member of the US National Academy of Engineering. His primary research interests are in the physics, engineering and mathematics of diagnostic medical imaging and its applications, with a focus on computed tomography.
The appointment was announced recently by the SPIE Board of Directors.
The Journal of Medical Imaging covers fundamental and translational research as well as applications that yield physical and biomedical advancements in the early detection, diagnostics and therapy of disease as well as in the understanding of normal.