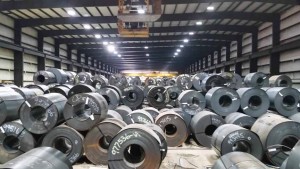 Kenwal Steel has saved 93% in energy costs, reduced fixture count by 60% and is saving an additional $18,700 annually as a result of reduced maintenance. The reason? The company invested in a lighting upgrade at its 100,000 square foot facility in Detroit, Michigan (US).
Kenwal Steel is one of the largest flat-rolled steel distributors in North America, known for difficult, deep draw applications where part severity and metallurgical input are fused together to establish proper mill practices for specific steel production. The initial reasons for the retrofit were to reduce energy costs and to have better control over lighting. "Controlling lighting wasn't possible with our metal halide fixtures," according to Kenwal Steel's IT Manager Kevin Stoops.
The company contracted with Total Source LED to manage the lighting retrofit from design through implementation. Total Source LED, based in Dearborn, Michigan, specializes in LED lighting for commercial, distribution and industrial applications with applications that range from warehousing and manufacturing to distribution centers and cold storage facilities.
Replacing metal halide
The Kenwal Steel project involved replacing 1000-Watt metal halide fixtures with the Digital Lumens' Intelligent Lighting System. Of the choice to go with Digital Lumens, Stoops said, "The ability to easily and effectively manage lighting in a wide variety of complex spaces was a deciding factor in our decision to select Digital Lumens compared to other products we evaluated. Other factors were the unique fixture design and light distribution, which reduced fixture count by 60%, and the ability to wirelessly change settings, which mitigates the issues of managing fixtures in hard-to-reach places."
The payback period was less than one year with a return on investment of 124%.
"In a busy facility like ours, it's hard to imagine light energy savings of 93%, yet that is exactly what we've been able to achieve," said Stoops.
Improved lighting distribution
The Intelligent LED Lighting System has a unique fixture design with improved light distribution that reduced the fixture count by 60%. The intelligent system also has the ability to wirelessly change settings, which means that maintenance workers no longer have to manage fixtures in hard-to-reach spaces.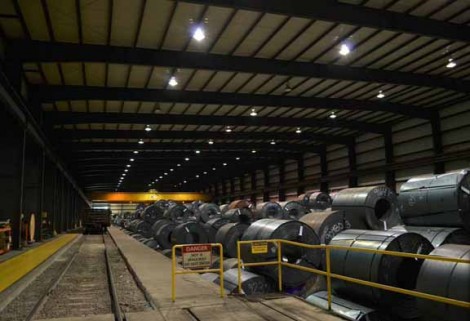 The Kenwall Steel plant before the lighting redesign.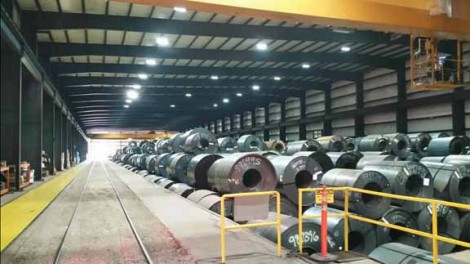 The Kenwal Steel plant after the lighting redesign.
In addition to wattage-based savings, Kenwal Steel has realized other capabilities of the smart lighting system:
Automatically turn off lighting within the massive steel storage areas when crane operators are not actively picking stock and instantly back on
Leverage the independently rotatable and dimmable lighting bars, eliminating the need to over light space while providing better lighting for inspection areas
Dim aisle lighting to 20% in lower traffic areas of the facility when workers are not present
Leverage daylight from open bay doors of the facility's shipping and receiving areas
Schedule automatic changes to lighting behaviors
The reason for these enhanced capabilities is that Digital Lumens intelligent lighting fixtures feature independently rotatable and dimmable LED light bars that distribute light throughout the facility. The system also has integrated occupancy and daylight sensors in every fixture that automatically turn on, off or dim lighting based on user-defined settings. The system also includes LightRules lighting and energy management software. Within the mill's steel storage area, for example, lighting is now automatically turned off when overhead crane operators are not actively picking stock for pickling operations and, when needed, return to full on without hesitation or delay, saving enormous amounts of energy
Flexibility and control
In addition to energy-related cost savings, the lighting system provides a level of flexibility and control and provides the team with access to a wide range of energy usage and occupancy data, accessed through the system's LightRules software. This data enables management to report, down to the kWh, how much energy is used by fixture, zone of facility-wide, observe when peak usage occurs in different areas of the facility and change settings to match actual operating conditions, track occupancy patterns, enabling optimization of lighting to support those patterns and to collect other energy management and operations efficiency metrics
Written by Anne Fischer, Managing Editor, Novus Light Technologies Today.