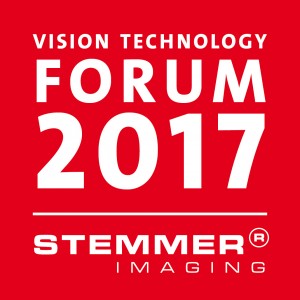 Seven full-day, hands-on training sessions have been announced for the first day of Stemmer Imaging's UK Vision Technology Forum. The UK Forum, which is part of five events to be held across Europe, will be held on 15–16 November 2017 at the Silverstone Wing Exhibition and Conference Centre.
The dedicated training day on Wednesday 15 November will be run by the European Imaging Academy and can accommodate 50 attendees.
The training courses available are
Planning and implementation of machine vision solutions
Optics and illumination systems for machine vision
3D imaging using the LMI Gocator; Rapid development – Sherlock machine vision software from Teledyne DALSA
Programming with Common Vision Blox
FPGA-programming with Silicon Software Visual Applets and Hyperspectral imaging – innovative inspection in machine vision.
Day 2 of the Forum has free admission and will offer opportunities to learn more about machine vision. There will be a program of more than 50 technical seminars covering a range of topics for both newcomers and vision experts; a new Integrator Zone, where visitors can meet with systems integrators, and an exhibition by more than 30 manufacturers of vision components.