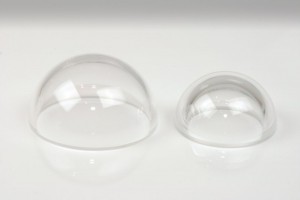 Knight Optical has launched a range of Stock Optical Domes for protective housing for CCTV Camera Systems, where protection of electronic sensor systems from harsh liquid and gas environments is essential.
A dome is essentially a window that has two parallel curved faces. The domes' form error polished faces ensure high clarity and transmission in the visible and NIR spectrums, allowing for accurate measurement.
Capabilities: Domes are readily mountable, optically clear and manufactured to a high standard. Available from 5 mm to 200 mm in diameter and 0.25 to 10 mm in thickness, offering high transmission and toughness for harsh environments.
Typical materials: As well as fused silica, domes can be made in any of the additional materials:
BK7
PMMA Acrylic
Quartz
Sapphire
Germanium
Silicon.
All domes are checked for quality in the metrology laboratory, using equipment from Trioptics, Varian and Starret.