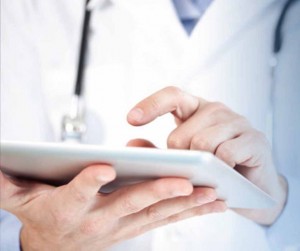 If ever there were a perfect application for telemedicine, stroke is it. Patients who show symptoms of stroke need to be evaluated in a timely fashion and treatment must be administered within a three-hour window. Instead of wasting time transporting the patient to another hospital for further evaluation, a mobile device can be used that allows a remotely located specialist to diagnose and recommend a treatment plan from a distance.
A pilot study was conducted at Nebraska Medicine in Omaha, Nebraska (US), where medical staff tested a telehealth image viewing program that is intended to enhance the ability of neurosurgeons to differentiate between cases needing immediate transfer versus those that could be treated locally at rural or community hospitals. The pilot used a virtual imaging platform that included iPads and iPhones, ResolutionMD's enterprise image-viewing software from Calgary Scientific and Purview cloud technology from Extreme Networks. In 50 plus exams, images transmitted to the cloud-based server to the iPads were viewable with no compatibility issues. No protected health information was transferred to the tablets/phones, eliminating any potential for a HIPAA violation.
Connecting over Wi-Fi
According to Kyle Hall, Telehealth Coordinator at Nebraska Medicine, the telehealth application is very mobile-device oriented, using smartphones and tablets. To simulate use in difficult scenarios, they used a Verizon 3G data connection, rather than 4G, so they could make sure that everything would work over a slower connection. Because Nebraska Medicine is an academic medical center, there is a benefit for (on-call) neurosurgeons, radiologists and other specialists to be in constant communication with the residents on campus. The initial advantage was that neurosurgeons could securely view images from home or the workplace over Wi-Fi or anywhere that they have a cellular connection.
They found that download times were fast, but there were many additional benefits. The residents and specialists are using virtualized image rendering, which is a rarity in medical diagnostics. Connecting via a remote desktop was a challenge because for a clinician to view the diagnostic images appropriately, they had to be the same resolution as they would be on campus. Hall explained that remote desktops don't display the level of resolution needed to accurately diagnose a patients findings. One of the many benefits of the telehealth imaging system is that it allows the user to view the images without having to send data to the device. Instead, the data resides in the cloud and is viewed at 100% of its original resolution remotely.
In one instance, Hall noted, a clinician was away visiting his family, but had forgotten his iPad. He securely logged in from an available computer and was able to view the images quickly. One reason that the images can be viewed anywhere securely is that the protected health information is not actually being sent to the device that is viewing it.
Savings and other benefits
Cost savings is huge benefit, Hall noted, as the telehealth system enables them to save a lot of money on storage of Digital Imaging and Communications in Medicine (DICOM) images. "It's expensive storing DICOM images in storage that is fast and readily available," Hall said. Instead, with the telehealth system, when images are needed they go to the cloud first and they don't store them in their data center unless they admit the patient. According to Hall it can cost as much as $5 to $6 per exam for storage. "This can get expensive and we reduce costs by not ingesting the unnecessary exams."
Further cost savings have been found by not having to provide physicians with laptops. "This is a huge savings in not only avoiding the purchase of the laptop, but support and licensing," Hall noted. For the pilot, Nebraska Medicine didn't have to purchase any end user hardware because they just used the devices that the staff already owns. Patients and their families also save time and money through the availability of remote diagnostics when they don't have to be transferred unnecessarily. This not only saves the patient and their family time and money, but allows them to stay in their rural community hospital where they typically have more support from local family members"
Disaster recovery is a further benefit. Because our implementation of the viewer resides in the cloud, Hall said, "If a natural disaster happened and took out our data canters, we could still receive images and our staff could still access those images and make decisions."
And last, but certainly not least, is the time savings for the physician. "In the past they'd have to drive to campus from wherever they were to view images," Hall recalled. Now specialists like neurosurgeons can make decisions on the go by using the mobile application and giving back what Hall estimates to be "hours of their lives that they can now spend with their families."
Compatibility issues overcome
Usually the greatest challenge with mobile devices is compatibility, but that is not the case here. Normally you have to send information to the device to be interpreted and the image viewer has to be specific to that device.
"Neurosurgeons can be one of most demanding image viewers, and with the telehealth imaging system a CT head scan can be securely viewed from a mobile device in less than 60 seconds, while under normal circumstances it could take as long as five minutes."
However, when you use virtualized image rendering, you're creating a window and all the processing is happening in data center where the image resides. The user opens a window that streams compressed pixel information to the device. Bandwidth could have been another challenge, which is why they initially tested the system with a 3G network. "Neurosurgeons can be one of most demanding image viewers, and with the telehealth imaging system a CT head scan can be securely viewed from a mobile device in less than 60 seconds, while under normal circumstances it could take as long as five minutes," Hall said. They found that the bandwidth, even at 3G, was adequate. During a stroke a patient can lose 2 million neurons per minute until treatment is administered. They tested out 3 platforms for image viewing that were not virtualized. Non-virtualized mobile image viewing takes up to 400% longer to view a CT head exam than the virtualized imaging platform of ResolutionMD. "This represents a colossal time difference in emergent care situations," Hall said, adding that, " It's easy to spot the solution that is best for patient care when you look at the graph and see how much faster it is for mobile specialists to view images. When it comes to stroke, time IS life."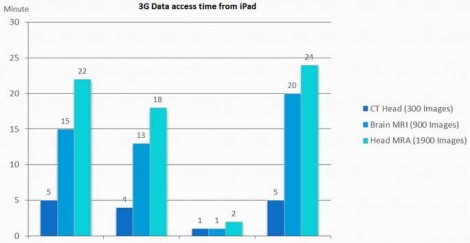 Data access time to view 300 head CT images, 900 brain MRIs and 1900 head MRAs with virtualized image rendering.
While Nebraska Medicine is a huge facility, the imaging system can also be implemented in small rural hospitals and clinics. With virtualized image rendering, no two organizations are required to have the same system. Images are stored in the standardized DICOM format, and can be viewed across all devices. Hall pointed out that, "Whether in the cloud or in data center, it's never necessary for both sides to have same system."
In the pilot they had up to 10 simultaneous users across PCs, Macs, androids, and iPhones, etc., and, according to Hall, the images all scroll at same time on all screens during collaboration sessions. "This provides huge value in an academic medical center," he said. "On call specialists can quickly access these images and collaborate with resident staff for timely treatment decisions while on the go " And rural providers can use their mobile devices to participate. All they have to do is to call in, and accept a hyperlink that launches ResMD and securely collaborate.
At Nebraska Medicine, the feedback on the pilot has been extremely positive and they hope to get it employed more deeply in the organization. Dr. Jason Helvey, Neuro Radiologist found that using off-site computers to look at patient images in a web browser isn't consistent or reliable, concluding that "Using mobile access to patient images makes my knowledge, skills and experience accessible to my trainees, referring providers and patients much more readily and effectively."
Written by Anne Fischer, Managing Editor, Novus Light Technologies Today