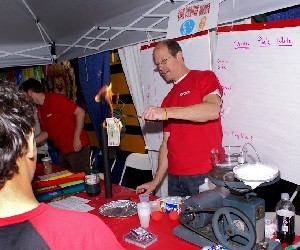 The Optical Society (OSA) announced that they will exhibit at the USA Science and Engineering Festival 2014 on 26-27 April at the Walter E. Washington Convention Center in Washington, DC. OSA volunteers will be on hand to perform education demonstrations in the "Big Top Physics" tent, a joint project between OSA, Sigma Pi Sigma, the American Physical Society, the American Association of Physics Teachers and the Society of Physics Students.
The all-ages festival features more than 3000 exhibitors, 33 author presentations, 100 stage shows and science celebrity appearances by Bill Nye the Science Guy, Dirty Job's Mike Rowe and cast and crew from the Big Bang Theory, House and Breaking Bad. The organisers expect approximately 250,000 visitors over the course of the festival.
OSA's participation in the festival is one of many ways the society supports youth education programs. Other initiatives include OSA's OPTICSforKIDS.org website and the distribution of complimentary pre-college educational materials to educators and parents.
The USA Science and Engineering Festival is advised by a Board that includes Nobel Laureates, leading CTOs/CSOs of Fortune 100 technology and life science companies, accomplished serial entrepreneurs and innovators, world famous translational scientists, decision makers in government science policy and leaders in science education. The mission of the event is "to re-invigorate the interest of our nation's youth in science, technology, engineering and math (STEM) by producing and presenting the most compelling, exciting, educational and entertaining science festival in the US."