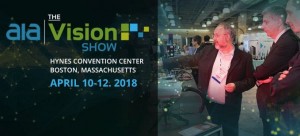 AIA, the trade association for advancing vision and imaging, has announced the finalists and judges for the upcoming Startup Competition at The Vision Show. The Startup Competition will be held on 12 April at 10:30 a.m. ET, in conjunction with the show and conference, which takes place in Boston, Massachusetts (US) from 10–12 April 2018. The Vision Show will showcase the largest array of machine vision and imaging components and solutions in North America.
Also announced, Diego Prilusky, General Manager for Intel Studios, will deliver the keynote address on Wednesday, 11 April. Prilusky oversees the technical and creative direction and day-to-day operations of the Los Angeles-based immersive media studio. This includes driving innovation and adoption of volumetric video technologies and production techniques. Prilusky joins distinguished roboticist Helen Greiner, who had previously been announced as the keynote speaker for 10 April.
Both the keynotes and the Startup Competition are free for anyone to attend with a badge for The Vision Show. The Vision Show's associated technical conference this year also includes an optional track on collaborative robots, which is one of the most cutting-edge topics in automation today.
The judges for the Startup Competition are:
Julian Counihan, partner, Schematic Ventures
Vivjan Myrto, managing partner, Hyperplane Venture Capital
Steve Wardell, director, imaging, ATS Automation and vice chair of AIA
The finalists have all been awarded a booth at The Vision Show and the opportunity to be exposed to over 2500 expected attendees. The winner of the Startup Competition will receive a $5000 cash prize.
Fastree3D — Booth 1130
Fastree3D is developing a new generation of lidar that can eliminate false positive and false negative. The proprietary solution enables safe and intelligent automation for vehicles and machines, thanks to recognition and location of fast-moving objects in real time.
LogoGrab — Booth 1031
LogoGrab provides a logo recognition API to detect company logos in large volumes of images and video. LogoGrab has been independently benchmarked as having the highest hit rate, precision and speed on the market.
Photius — Booth 1033
Photius is creating disruptive inspection and mapping solutions for infrastructure and construction management. Their sensor technology, Ximera, is a three-dimensional (3D) measurement system that combines photogrammetry, laser scanning and structured light measurements.
SocialMap — Booth 1035
SocialMap is a social behavior intelligence platform for education and workplace settings, which helps improve user engagement and team productivity through insights into their "collective engagement" in trainings, meetings, research and other business interactions.
Vtrus — Booth 1134
Vtrus develops autonomous robotic inspectors that can quickly extract information out of the analog world. Vtrus' technology enables safe robotic navigation even on indoor spaces as it instantly builds high-quality 3D maps to avoid obstacles as it moves towards points of interest.
There is no cost to visit the exhibits at The Vision Show. There is a fee required to attend associated conference and collaborative robot track sessions. Visit www.visionshow.org to register.