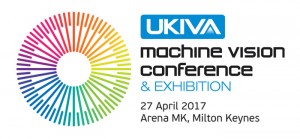 At the first ever UKIVA Machine Vision Conference & Exhibition (MK Arena, Milton Keynes, UK — 27 April 2017), Matrox Imaging will be on hand alongside UK distribution partner Clearview Imaging to demonstrate dot-matrix text reading using Matrox Imaging Library (MIL)-based Matrox SureDotOCR technology running on the Matrox Iris GTR smart camera. As well, Matrox will show a multi-camera inspection scenario, managed by a Matrox 4Sight GPm vision controller and created using the Matrox Design Assistant 5 development environment.
The capabilities of the Matrox SureDotOCR, which lets packaging line equipment builders design inspection systems that can reliably read the often distorted information applied by industrial inkjet printers and integrated into both MIL 10 and Matrox Design Assistant 5, will be featured.
Matrox Iris GTR is a rugged, IP67-rated camera measuring 75 mm x 75 mm x 54 mm, allowing it to fit into tight and dirty spaces. It uses On Semiconductor PYTHON CMOS image sensors with high readout rates and an Intel Celeron dual-core embedded processor that allow it to inspect on faster moving lines or perform more inspections in an allotted time.
Matrox 4Sight GPm is a vision controller featuring a combination of embedded PC technology, compact size and ruggedness.
Matrox Design Assistant is the first hardware-independent integrated development environment (IDE) that lets users create an application flowchart and HMI and take machine vision projects from concept to completion, without the need for conventional programming.
In the conference portion, Matrox's Regional Sales Manager (Europe), Jason MacDonald will be offering a thought-leadership talk "Programming Advanced Vision Systems without Writing Code!" MacDonald will discuss and survey the options available in the latest generation of machine vision software designed to remove coding requirements and allow a wider variety of users to create their own machine vision applications.
Allan Anderson, Managing Director of Clearview Imaging and Vice Chairman of UKIVA, will also be offering insight into OCR technology, the difficulty traditionally seen in reading dot matrix print from Continuous Inkjet Printers, historical ways of addressing this, and how modern OCR tools, like Matrox's SureDotOCR can solve this problem.