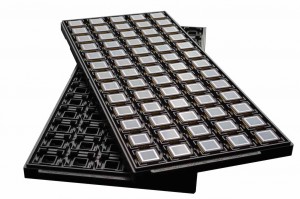 ULIS, a manufacturer of innovative thermal sensors, announced the launch of Atto320, the first in a family of 12-micron, stand-alone, image sensors. The 12-micron pixel pitch is the new industry standard in thermal image sensors for market applications where reducing the overall size and cost of the camera are important. Key markets include the outdoor leisure/observation, thermography and surveillance sectors.

Atto320 brings sharply focused and accurate images, compactness and extended battery-life to handheld camera makers. The advantage of offering Atto320 as a stand-alone component is that system integrators have ultimate flexibility in configuring designs that meet their specific performance needs, enabling them to offer true product differentiation to end-users. Other 12-micron products are sold either as modules or thermal camera cores, where access to the thermal image sensor's performance parameters is restricted.

The new fully digital Atto320, a 320x240 thermal image sensor (microbolometer), is designed with ULIS' unique 12-micron technology for sensor miniaturization. It generates high-quality moving images due to the high frame rate (60Hz) and ease-of-use handling with simple calibration. These features allow users to view fast-moving objects as well as observe scenes at distances of several hundred meters. The new sensor consumes less than 220 mW at 60 Hz, enabling extended autonomy of more than 10 hours for handheld systems.

By using the new 12-micron technology, Atto320 can reduce the size of the optics by as much as 50%, translating to a cost reduction of up to 20%. It is fully compatible with other ULIS products in its 17-micron GEN2 imaging sensor line. This means Atto320 is easy to use, saving customers time-to-market when switching to 12-micron technology.
It combines ULIS' product excellence in high uniformity and stability, key parameters for easy implementation and low power consumption, with state of the art performance in temperature difference detection, as low as 0.06°C (60mK thermal sensitivity).

ULIS will show Atto320 by invitation only at SPIE DCS in Anaheim, California, 9 to 13 April; booth B314.