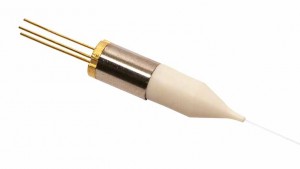 Lumentum has introduced the T13 Series of 980 nm pump laser modules, which are based on an uncooled distributed feedback (DFB) 980 nm pump laser chip.
The T13 family of products combines a high-power DFB diode laser with additional components into an ultra-small form factor, coaxial package. Sample quantities are available now, with volume production in December 2016.
The Lumentum T13 Series, operating up to 200 mW, meets the telecommunications industry's requirements, including Telcordia GR-468-CORE for hermetic 980 nm pump modules. The pump modules target single-channel and narrow-band amplifier applications for high-bit-rate transmission modules and CFPx transceivers.
Pump Lasers
Lumentum offers a full portfolio of pump lasers for optical amplification which is a key element of virtually all fiber optic communications networks. The 980 nm Series products support erbium-doped fiber amplifiers operating from 100 mW to 900 mW power levels. The 14xx nm and 15xx nm Series products, deployed in Raman amplification, offer operating powers up to 600 mW in wavelengths covering the C band and L band. The new uncooled T13 Series pumps are derived from a revolutionary 980 nm pump platform and significantly reduce power consumption and enable operation in extreme physical environments.