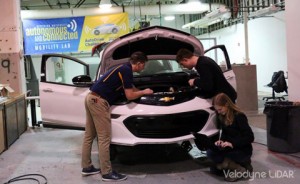 Student teams from eight select universities will soon participate in the inaugural AutoDrive Challenge, organized by SAE International and General Motors. Hosted at GM's Desert Proving Grounds in Yuma, Arizona April 30 through May 5, teams will demonstrate their advancements over the last year in transforming a Chevrolet Bolt EV into a vehicle with self-driving capabilities. In this, the competition's first year, the focus has been on developing a system capable of object detection and avoidance. By the end of the Challenge's third and final year, teams will be striving to accomplish Level 4 of SAE International's Levels of Driving Automation.
Velodyne LiDAR, Inc. provided teams VLP-16 'Puck' sensors. With low power consumption and a compact size that allows the sensor to be easily integrated on vehicles, the VLP-16 provides a 360-degree, 3-D view of its surroundings at nearly the speed of light. The sensor spins sixteen lasers to rapidly gather millions of data points from the surrounding roadway and environment, including precise measurements of objects' distance from the vehicle. Since entering production, more than 10,000 units of the VLP-16 have been shipped to customers, primarily for automotive applications.
AutoDrive teams have been working tirelessly in preparation for the event in Arizona and they are eager to demonstrate their vehicle's capabilities.
Velodyne LiDAR
Founded in 1983 and headquartered in Silicon Valley, Velodyne is a technology company known worldwide for its real-time 3D LiDAR sensors. The company evolved after founder/inventor David Hall developed the HDL-64 Solid-State Hybrid LiDAR sensor in 2005. Its products range from the surround view Ultra-Puck VLP-32, classic HDL-32/64 and VLP-16, to the upcoming Velarray and VLS-128. Velodyne's rich suite of perception software and algorithms are the key enablers of its perception systems.