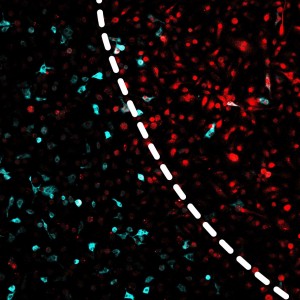 Researchers at Cornell University, New York State (US), have developed a chemical tool to control inflammation that is activated by ultraviolet (UV) light. The key is a small molecule capable of controlling an immune response when exposed to UV light radiation.
"We have developed a chemical technology that can selectively inhibit the inflammatory activity of immune cells, in this case macrophages," explains Pamela Chang, assistant professor of microbiology and immunology at Cornell and the paper's senior author. "Our tool is activated by UV light, so that we can modulate macrophage activity in a spatiotemporal manner."
Manipulating the immune system in a controlled manner
Cornell's tool is at the forefront of new technologies to control inflammation and the immune system. The method is innovative because there are very few tools that can manipulate the immune system in a controlled manner. "We envision that our tools can be used therapeutically to limit inflammation in the target tissue to avoid off-target effects on healthy surrounding tissue," says Chang.
Beyond treatment options with minimized side effects to healthy tissues, the innovation holds promises for research, too: "We also envision that our tools can be used to study inflammatory pathways," the professor says.
Challenges and opportunities for future light technologies
Chang and her colleagues had to overcome obstacles in developing the chemical tool and are still optimizing the method: "The biggest challenge is to have our method work in vivo," Chang reveals, "and we are currently developing new probes that are optimal for in vivo use."
The research advance accomplished at Cornell could have broader impact on the development of the next generation of light-based technologies. "We have developed a technology based on light activation of small molecules, and we believe our approach can be adapted to target many different biology pathways," Chang confirms.
What is the next step
"We would like to see our technology work in vivo in mouse models," the researcher says in conclusion.
The study's results are reported in the article "Chemical optogenetic modulation of inflammation and immunity," published in Chemical Science.
Written by Sandra Henderson, Research Editor, Novus Light Technologies Today