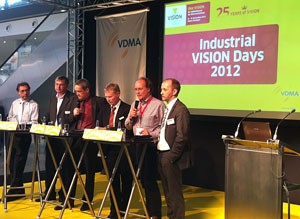 During the second day of the 25th Edition of the Vision show in Stuttgart the exhibition hall was well attended with much attention focused on those exhibitors who had stepped on the bandwagon of CMOS technology and camera network standards, which undeniably are highly intertwined matters.
Though CMOS technology has been around for decades and long ago famed for its human eye-like response and dynamic range, only just now has it fully matured with well-controlled internal architecture. So, companies were showing their latest efforts to increasing pixel capacity and speed of their cameras, with JAI among the winners with a 20 megapixel model.
While all this novel pixel ferocity would choke up with cameras connected to computers through classic USB or IP wiring, new faster and higher capacity protocols appeared the only solution. To avoid that camera users becoming dependant of single manufacturers' systems, organizations such as the EMVA have managed to present a set of standards now adopted by the entire industry, so camera users can switch between vendors without having to adapt their computer software. However, with a choice of several different standards, including CameraLink, GeniCam, GigE and specially USB-3.0, plenty of considerations regarding data speed, capacity and distance are making the right standard selection for the application to a specialist task.


Panel Discussion on Machine Vision Standards. Photo by Andreas Breyer.
Industrial Days
During the exhibition, the German machine builders association, VDMA, was organising a 45-topic Industrial Vision Days forum with one of those topics being a panel discussion moderated by Bernhard Schroth of Inspect Magazine with participants Jochem Herrmann from Adimec Advanced Image Systems BV, George Chamberlain from Pleora Technologies Inc., Dr. Friedrich Dierks from Basler AG, Dr. Klaus-Henning Noffz from Silicon Software GmbH and Thomas Nepstad from Cognex.tried to answer the question as to whether the machine vision industry has enough power to establish its own standards over the long term or will standards from the consumer area fulfil all needs. Proceeding to the discussion, Mark Williamson from Stemmer GmbH offered the audience some insight into the myriad of parameters one should consider before selecting the right standard for each specific camera application.
Written by Robert Molenaar, European Editor, Novus Light Technologies Today