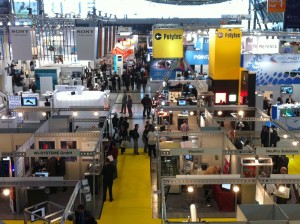 The global machine vision community is gathering this week in Stuttgart, Germany for the largest industry show, Vision 2012, which celebrates its 25th anniversary this year. A record number of 372 exhibitors from 32 countries are presenting the latest products and systems around machine vision and image processing and underlining the international relevance of the show. This includes cameras, sensors, frame grabbers, illumination systems, lasers, optics, lenses and software as well as machine vision systems.
For the first time, the entire show takes place in one exhibition hall, as the fair has moved to the trade show's largest hall with a gross area of 21,000 square meters, a request that was posed by a number of exhibitors to the show organizers, according to Florian Niethammer, Project Manager for Vision.
Vision has also evolved from a pure components trade fair to more user-oriented trade fair. A necessary step in order to keep Vision attractive, because customer industries for the exhibitors are heterogeneous and new customer industries such as medical, agriculture, and security need to be attracted with integrated solutions. The medical discovery tour is a good example for this, as it displays vision solutions for medical applications at show. Here, 3D technology plays an important role. Also the integration area is of great interest, offering a platform for system integrators who offer tailor-made vision solutions.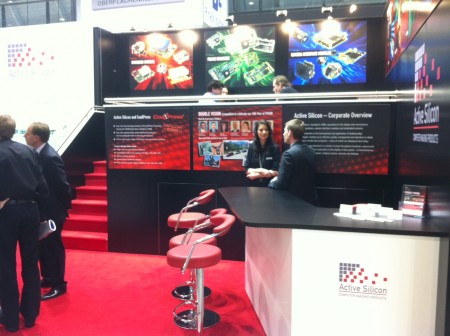 Industry associations
The importance of having strong industry associations was pointed out on a number of occasions, be it for pushing standardization or supporting the show itself in becoming the number one place to meet for the machine vision community. As to market expectations, Dr. Olaf Munkelt, Chairman of the Executive Board of German VDMA machine vision group expects vision industry sales in the largest European machine vision market to be flat by the end of this year, and only gradually improve by up to 2% in 2013. Domestic demand for vision technology is expected to stagnate in Germany, while foreign orders are seen to grow somehow.
Pointing at the predictions of a growing worldwide demand for robots in ne next years, Dr. Munkelt spoke of a brighter future beyond 2013. Together with the growing demand from non-manufacturing industries, this indicator leaves hope for further growth. Increasing standardization, simpler practicality, increasing miniaturization and embedded intelligence - the so-called embedded vision - are seen as future drivers of machine vision. In terms of standardization, USB3 is seen as the coming vision standard and its official launch is just a matter of time. Companies such as camera manufacturer Basler is already focusing on it in their camera production.
Inspired by the new common exhibition site and by 25 years of Vision in Stuttgart, the machine vision community is alive and well in Stuttgart and will have another two exciting show days.