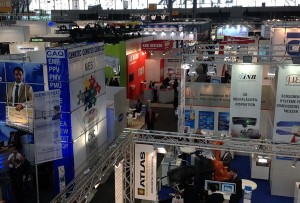 After three intensive show days, Vision 2012, the leading international trade show for machine vision and image processing has closed its doors on Thursday. Once again, the trade fair proved that it is the most important gathering of machine vision experts from all over the world: Exhibitors from 32 countries were present in Stuttgart, and 36% out of the just over 7000 visitors came from abroad.
An important part to retain the attractiveness of the show also for industry outsiders was once again the "Integration Area", where system providers could demonstrate their solutions. Machine vision research again played an important role: Several research facilities were present, ranging from the agro vision experts of Wageningen UR the Austrian Institute of Technology; to Fraunhofer IMS, which presented a system of flying robots equipped with 3D sensor to observe large gatherings.
The relocation of the show from two separate halls into the largest exhibition hall on the show ground was appreciated by most of the participants. A number of exhibitors took the opportunity to expand their stand size and made visitors almost forget that the industry is dominated by small- and medium-sized enterprises. This development is quite contrary to rumors that a few major exhibitors wanted the show to change from an annual to a by-yearly cycle. This, however, seems to be off the table at least for the time being.
Talking to exhibitors during the three show days, many of them stated that one key reason for being in Stuttgart each year is the high quality of the visitors and the resulting leads. This fact is underlined by the internal show analysis, which revealed that 87% of the visitors came with concrete intentions to buy and invest in machine vision technology. These were good reasons to celebrate the 25th edition of Vision at great length, be it officially with a huge birthday cake at the exhibitors night on Tuesday (see picture) or a day later at the famous Stemmer party, where a "Vision United" band played, which was made up of trade show participants for this very occasion. Band members even came from competing companies, and underlined the friendly relationships that exist in the machine vision industry.
The next Vision is being held earlier than usual: Vision 2013 will take place 24 to 26 September, 2013.
Written by Andreas Breyer, Senior Editor, Novus Light Technologies