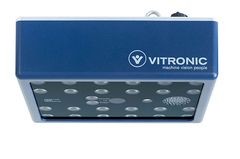 Vitronic Machine Vision Ltd. announces the new VICAMsnap! camera-based automated identification (autoID) system for hands-free reading of 1D barcodes and 2D machine-readable matrix codes.
The Vitronic VICAMsnap! is a compact, lightweight camera-based solution equipped with white illumination that allows it to read coloured barcodes as well as damaged or poorly printed barcodes on colour backgrounds. The Vitronic VICAMsnap! provides a 12-by-10-inch width of field and 16-inch depth of field (310mm × 260mm × 300mm) to allow operators to capture all 1D and 2D barcodes present on parcels, flats and boxes. A large target is projected onto the workspace, allowing the operator to quickly find the scan zone and process the items being scanned. The unit also can be mounted on a conveyor to read codes in constant acquisition mode or placed above a sorting station for manual operations.
Features of the VICAMsnap! include both visual and audible feedback of the read operation. Green and red "go/no-go" light-emitting diode (LED) flash indicators provide visual feedback, allowing the operator to process the item even in noisy industrial environments, while audible tones or voice confirmation commands are configurable. This innovative approach with audible and visual operator feedback also allows customers to comply with Section 508 of the Americans with Disabilities Act (ADA).
The system is equipped with a processing unit that provides more than just barcode reading; it allows image capture/archiving and complex processing routines to be completed in real-time. Images can be compressed, converted to binary, pre-processed for optical character recognition (OCR) and transmitted via gigabit Ethernet (GigE) to a host server for further processing or offline archiving purposes.
The VICAMsnap! camera is an information and image-acquisition system designed for manual and automated processing in the material handling, warehousing, parcel/post, distribution and manufacturing industries.