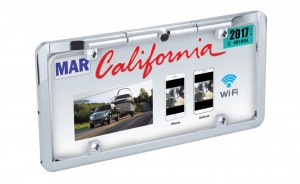 Power Acoustik debuted their new Wi-Fi rear view and backup camera at the 2017 SEMA Show in Las Vegas, Nevada (US).
The Wi-Fi rear view camera features do-it-yourself installation on your license plate. This Wi-Fi rear-view and backup camera is unique with no similar product available in the 12-Volt market.
Key features include:
Ability to monitor trailing/towing conditions while driving
Easy pairing to most Android and Apple devices
Advanced 720P HD image resolution via CMOS color camera
IP65 waterproof construction and cable connections
20-ft installation cable included for any vehicle application.