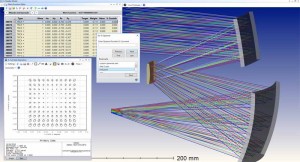 Zemax announces the release of version 18.4 of OpticStudio, its industry-leading optical design software.
OpticStudio can be used to solve sequential and non-sequential optical design challenges—no matter how simple or complex—before physical prototypes are ever built.
Some of the new features and enhancements in OpticStudio 18.4 that support this virtual prototyping workflow are:
New Full-Field Aberration analysis – Use this new analysis plot to improve freeform surface design and visualize how aberrations change across the full field of view.
Updates to the non-sequential converter – Use this tool to automatically convert sequential systems with off-axis mirrors or custom lenses to the equivalent non-sequential system.
New Compound Lens object – Use this new non-sequential object to simulate complex lenses for stray light analysis or optomechanical design.
New Boolean Native object – Use this new object to run faster, more accurate, and more reliable ray traces with Boolean combinations of non-sequential objects.
OpticStudio provides a flexible, intuitive, and powerful modeling environment to quickly develop and capture optical design ideas. The OpticStudio user interface and overall usability continue to be high priorities for Zemax. The latest usability updates include:
New search capability – Use this new search capability to quickly find a surface, object, or operand in the editors.
New bookmark feature – Use this new feature to organize and efficiently navigate the editors.
For the full list of features and enhancements in the 18.4 release, please see the OpticStudio 18.4 Release Notes. To access all the new features in the OpticStudio Premium Edition, sign up for a free trial.