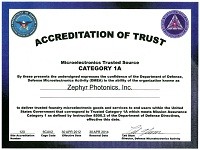 Zephyr Photonics, Inc., a manufacturer of harsh environment, optical interconnect solutions for mission-critical intelligence, defense, aerospace, energy and industrial applications, today announced the launch of its Semiconductor Fabrication and Foundry Services (SFFS) business unit.
Among Zephyr Photonics' resources is the 10,000 square-foot clean room in its Zephyr Cove facility, which includes a variety of growth, processing, testing and production equipment. The facility is accredited by the US Department of Defense's (DOD) Defense Microelectronics Activity (DMEA) as a US Trusted optoelectronic foundry and is International Traffic in Arms Regulations (ITAR)-compliant and International Organisation for Standardisation (ISO) 9001:2008-certified. Zephyr Photonics' team combines more than 100 years of pertinent experience.
Zephyr Photonics' SFFS is now fully operational and ready for customer engagements.