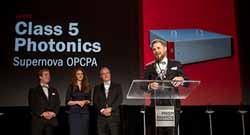 Celebrating its 11th year, the Prism Awards recognize industrial innovation in photonics in multiple categories; 120 companies from 15 countries applied for this year's awards. Winners will be announced at SPIE Photonics West 2019 in San Francisco, California (US) in February.
This year the awards add two new categories this year: Transportation and Vision Technologies. The Prism Awards continue to reflect the rich growth, exciting developments, and technical innovation in optics and photonics
Newer companies such as RedShift BioAnalytics, aJile Systems, and Double Helix Optics — a 2016 SPIE Startup Challenge champion and recent winner of Luminate's accelerator program and $1 million prize — will share the distinction of being finalists alongside photonics giants such as Nikon, Trumpf, Leica, and Hamamatsu.
Prism Award finalists and their competing technologies:
Detectors & Sensors
CloudMinds — XI AI Raman Spectrometer
Hamamatsu Photonics — C14384MA Mini-Spectrometer (SMD series)
ImpactVision — Real-Time Food Quality Decisions
Diagnostics & Therapeutics
Convergent Dental — Solea CO2 Dental Laser
Double Helix Optics — SPINDLE
RedShift BioAnalytics — AQS Protein Analyzer
Imaging & Cameras
Ajile Light Industries — DepthScan
Leica — BLK3D
RDI Technologies — Iris MX
Industrial Lasers
Civan Advanced Technologies — HP Laser & CBC Technology for Materials Processing
nLIGHT — Corona Fiber Laser
TRUMPF — TruPrint 5000
Light Sources
Gamma Scientific — RS-7-SWIR
SLD Laser — LaserLight MicroSpot Module
Smart Vision Lights — NanoDrive
Optics & Optomechanics
Dover Motion — DOF-5
Modular Photonics — Omplex Passive Silica Chips
Nikon — 4D Free-Form SG
Scientific Lasers
Chromacity — OPO-CX
Spark Lasers — ALCOR 920 nm, 2W
TOPTICA Photonics — DLC TOPO Automated Widely Tunable MIR Laser Source
Test & Measurement
4D Technology — 4D InSpec XL
InterOptics — OptoFlat
SmarAct — PicoScan Vibrometer
Transportation
Alta Devices — AnyLight Gen4 Solar Cell
Blackmore — Automotive Doppler Lidar System
OFS — FlightLinx PLUS Fiber Optic Cable
Vision Technology
AlphaMicron — CTRL Eyewear
Optotune — Extended Pixel Resolution Beam Shifter XPR-25
QD Laser— RETISSA Display