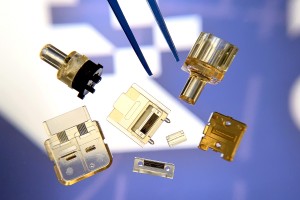 Accumold, a precision and micro injection molding expert, will showcase its expertise at Photonics West in San Francisco. as the world's leading high-tech manu
With a 30-year plus pedigree at the cutting edge of miniaturization and innovation in micro molding, Accumold is adept at insert molding, clean room molding, and 2-shot molding in materials including peek, Ultem, LCP, and most engineered thermoplastics.
While serving numerous industry sectors where there is a drive towards increasingly complex and increasingly small part and components, Accumold has been serving the micro optics market-place for decades, and has been involved with the manufacture of ground-breaking and highly innovative products on behalf of an array of companies from leading SME's to large multi-national blue-chips.
The micro optics sector is characterized by the requirement for extreme accuracy, and products and components produced in a timely and cost-effective manner. As such, it is vital that OEMs locate and engage with a qualified and experienced micro molding expert to ensure optimal outcomes.
Accumold routinely assists in the design, tooling, and manufacture of micro-optic devices such as 250-micron fiber optic lenses, parallel array products, demux devices, and diffractive lenses. The company also has experience of molding attenuated resins and adding IR, anti-reflective (AR), and reflective coatings onto plastics. The demands associated with running micro-sized optical couplers, integrating lenses into housings, replicating lens profiles within a quarter wave, and lens surface finishes within 50 angstroms requires that Accumold has a dedicated tooling expert on staff to advise on and optimize design and tooling for any OEM light transmission requirements.
Accumold has partnered with many optics OEMs across the world, and with each the company operates strategically to ensure that the product development process is as efficient as possible. With an over 30-year association with micro molding and micro manufacturing, Accumold is not only the most experienced micro molder in the world, but also the largest, which affords its customers the reassurance of working with a robust and secure company that can provide efficiencies that lead to affordable pricing, and also one that has the capacity and infrastructure to ramp up to full mass volume manufacture.
Accumold invites any attendees at Photonics West to visit at booth 2427 to see some examples of its micro molding successes, and to discuss any micro-optics applications with a member of our expert team.