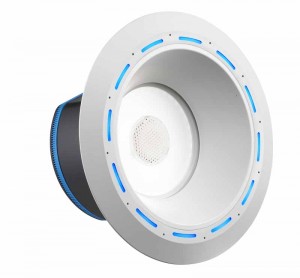 Acuity Brands, Inc. announced the Juno AI smart home downlight is now compatible with SmartThings, an industry leader for IoT technology and home connectivity. Juno AI is an advanced, patent-pending LED downlight that integrates advanced technologies, and now SmartThings intelligence, into a single ceiling light fixture, enabling a seamless, smart home ecosystem.
SmartThings reaches more than 50 million consumers, weaving connected living technology into more than 5,000 devices including mobile phones, appliances, and TVs to make everyday life easier. Juno AI lighting fixtures are the first products from Acuity Brands to integrate into the SmartThings ecosystem. Both companies will collaborate to develop and innovate additional smart home lighting solutions through the Acuity Design Studio, which encompasses industrial design, engineering and portfolio management resources.
The Juno AI lighting portfolio integrates five advanced technologies, including SmartThings connectivity, Alexa voice service, high performance JBL® speakers, sophisticated lighting controls and state-of-the-art LED illumination. From dimming the lights to setting the mood with different color temperatures, the Juno AI speaker lights are seamlessly controlled via voice or the Juno AI, SmartThings or Alexa apps.
The SmartThings compatible Juno AI smart home downlight is expected to be available for purchase this spring.