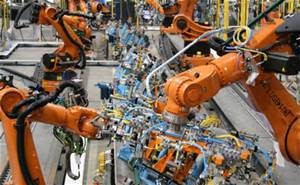 The US House of Representatives recently passed H.R. 2996, the Revitalize American Manufacturing and Innovation (RAMI) Act. The bill seeks to establish several Centers for Manufacturing Innovation, uniting public and private partners with the goal of fostering manufacturing innovation in the US and speeding up product commercialization.
The Optical Society (OSA) commends the House of Representatives for passage of this bill. OSA is one of 125 organizations that encouraged the passage of the legislation. OSA worked with Rep. Tom Reed (R-N.Y.) to include language in the bill naming optics and photonics as one of several technology focus areas to consider for a manufacturing center. OSA Members also participated in a Congressional briefing, Capitol Hill visits and a letter-writing campaign in support of the RAMI Act.
"The RAMI Act is a win for the optics and photonics industry," said OSA CEO Elizabeth Rogan. "Countries like Germany and Japan have had success with similar initiatives. The United States must demonstrate its commitment to innovation and growth by providing the needed resources to advance high-tech business in this country. Yesterday's passage of the House bill is a critical first step. We urge the US Senate to follow suit by passing the same version of the RAMI Act, which will create jobs and help ensure America's economic leadership."
The bipartisan RAMI Act was introduced in 2013 by Sens. Roy Blunt (R-Mo.) and Sherrod Brown (D-Ohio), and Reps. Reed and Joe Kennedy (D-Mass.). It passed the House chamber yesterday by voice vote. The Senate is expected to vote on the bill by year's end.
"We're thrilled to have such overwhelming bipartisan support for our bill to create high-tech, high-paying manufacturing jobs for Americans," Rep. Reed said. "These are the kinds of jobs that will give generations to come the opportunity to create and innovate right here at home. I'm so proud of what we've been able to accomplish together with input from key industry groups like OSA and my colleagues in the House and Senate. Our shared vision sets the stage for an American manufacturing renaissance and will position the United States in the best way possible to be the world leader in advanced manufacturing. In this economy, Americans need something to come together on, something to unite around to fight for jobs. RAMI is that uniting initiative."