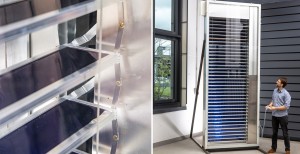 About 40 percent of the primary energy consumption in Germany is used for space heating and warm water. Facades which function as a "thermal wall" can help bring on the transformation of our heating system, yet they have been given little attention up to now. In the ArKol project, a research consortium led by the Fraunhofer Institute for Solar Energy Systems ISE has developed two novel solar thermal façade collectors: a solar thermal strip collector and a solar thermal jalousie. As an integral part of the façade, both elements offer an architecturally pleasing experience.

The project "ArKol – Development of architecturally aesthetic, integrated façade collectors with Heat Pipes," just ended in February 2020. The project focused on developing multifunctional building envelopes. In a cooperative effort Fraunhofer ISE joined together with the DAW SE company, Priedemann Façade-Lab as well as the Borderstep Institute for Innovation and Sustainability, the education service provider Kompetenzzentrum Ausbau und Fassade and the Institute for Building Construction of the University of Stuttgart to achieve the project aim.

"The intent of the project was to utilize the large potential area on facades to generate useful heat for buildings and offer architects more freedom of design at the same time. In the past, potential customers have been hesitant about the appearance of collectors, and this has hampered the wider use of solar thermal systems. Also, the aim was to reduce the planning effort, provide easier mounting and installation possibilities," says Dr. Michael Hermann, Coordinator for Innovation Processes in the business area of Thermal Systems and Building Engineering at Fraunhofer ISE.

Compared with standard roof-mounted installations, façade-mounted solar thermal collectors offer a variety of advantages. For one, when used for solar-assisted space heating, the irradiation profile on the façade is a better match for the actual energy consumption. Because the winter sun is lower in the sky, it shines at a more profitable angle than on the roof and more energy is generated. In summer, façade-mounted collectors are exposed to less solar radiation than roof-mounted collectors, which corresponds to the reduced heat demand. With less surplus heat generated, the material loads on the collector and heat transfer fluid are reduced, an advantage for the collector lifetime. In urban centers with tall buildings, there is more area available on the building façade than on the roof, especially since the roof is often used for elevators shafts and other technical building services.

For the efficient and aesthetic utilization of solar thermal energy in façades, the researchers and their industry partners developed first demonstrators for transparent and opaque building envelopes.