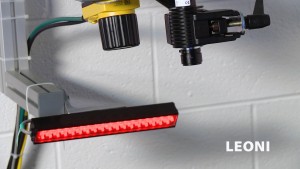 Leoni Engineering Products & Services, a solution provider in machine vision systems, robotic cable management and automation training will showcase the latest interactive vision-guided assembly demonstration and latest solutions for factory automation at the Automate Show in Chicago, Illinois (US), 8–11 April at Booth 7507.
As an AIA-Certified Systems Integrator (CSI), Leoni's vision solutions team creates turnkey machine vision systems to solve machine vision inspection, assembly and verification problems.
Solutions for calibration and validation
In addition to vision, Leoni will be featuring the advintec TCP — robotic tool calibration, the Wheel & Tire Validation System — verifying the correct tire and wheel assembly, and the newest cable management solutions for both collaborative and lightweight industrial applications. This includes the Leoni B-Flex and the latest Leoni B-Flex P3 — cable solution for all picking, packing and palletizing applications.
Certified cables to CC-Link IE standard
Leoni will also present cable and cable systems for motion-controlled drive mechanisms, which include the FieldLink product line providing solutions for every type of industrial communication. Also featured will be the new CC-Link IE Field cables certified by the CLPA (CC-Link Partner Association) for use in industrial environments and meet the requirements for 1 gbps Ethernet.