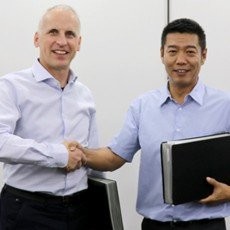 Beijing Sanbao Xingye Image Tech has been Basler's distribution partner in China for close to twenty years. The company distributes image processing components and consults its customers in machine vision and scientific imaging. Both companies agree to transfer the Machine Vision division to the newly established Beijing-based Basler China, with branch offices in Shenzhen and Shanghai. The management is staffed by employees of both companies.
The founding of Basler Vision Technology China brings the manufacturer and its customers closer together, and the range of offerings will be increasingly geared to local requirements in the future. Customers will benefit from the manufacturer's ability to offer China market-leading products, an improved supply chain and increased flexibility.
Asia, and especially China, is a strategic growth region for Basler, where the company takes another step towards building its business. The joint venture agreement with Beijing Sanbao Xingye extends Basler's direct presence in the Chinese market.