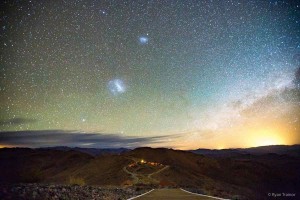 The Quality Lighting Teaching (QLT) Kit, that was developed by the National Optical Astronomy Observatory (NOAO) with grants from the International Astronomical Union and The Optical Society for the cornerstone theme, "Cosmic Light", of UNESCO's International Year of Light, 2015 (IYL2015), to raise awareness of light pollution, has been released as Turn on the Night, by Laser Classroom, LLC.
During IYL2015 NOAO, via partner organizations, distributed the QLT Kit to more than100 organizations in 32 countries. Seeking to extend the impact of the project, and reach a broad audience of educators worldwide, kit developers reached out to Laser Classroom, LLC to collaborate on making the kit commercially available. Turn on the Night is based on, and grounded in the pedagogy and intent of the original QLT Kit: to educate middle and high school level students about the environmental impact of human created lighting. The kit consists of materials and a comprehensive curriculum guide for three (3) hands-on, problem based challenges addressing Sky Glow, Glare and Light Trespass, and a capstone challenge about energy consumption and carbon footprint.
Each challenge engages students in real world problem solving as they design and create strategies for city lighting that balance the competing concerns of humans and the environment.
"At Laser Classroom, we spend a lot of time talking about the benefits of light, so it is exciting to expand our awareness and product line to include education about potential solutions to the problems and risks posed by our access to light.." ~Colette DeHarpporte, President of Laser Classroom, LLC
Laser Classroom, LLC is a small, woman owned business committed to "Bringing STEM to Light" with educational kits and curriculum around light, lasers and optics for the K-12 classroom. Contact: Colette DeHarpporte