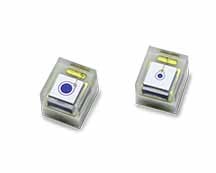 Excelitas Technologies, a specialist in customized photonic solutions, will highlight its latest photon detection product innovations for lidar technology at CES 2019.
Exhibiting as a LeddarTech Ecosystem member, Excelitas will showcase its pulsed lasers and avalanche photodiodes and also present a technical session entitled, "Evolution of Pulsed Lasers and Avalanche Photodiodes Enabling lidar applications." Excelitas supplies specialized opto-electronics components for use with the LeddarEngine, which drives LeddarTech's auto and mobility platform.
Featured products at CES 2019 include Excelitas' Surface Mount Device (SMD) 905nm 1X4 Pulsed Laser Diode Array and C30737MH Series Surface Mount Silicon Avalanche Photodiodes (APDs). The SMD 905nm 1X4 Pulsed Laser Diode Array was recently honored as an inaugural winner of the Autonomous Vehicle Technology ACES Award. As a key building block of next-generation lidar systems, the SMD 905nm 1X4 Pulsed Laser Diode Array has become an indispensable emitter technology for autonomous vehicles, which addresses OEM design engineers' need for a high-performance, customizable solution. Excelitas' compact C30737MH Series Surface Mount APD allows high-volume, cost-efficient product design for automotive lidar and other precision laser applications.
On January 10 at 10:30, Excelitas Product Leader, Detection, Denis Boudreau and Applications Leader, Detection, Anand Pandy will present a session about the latest advancements in sensor offerings. Taking place in the LeddarTech Ecosystem Classroom at LeddarTech's Pavilion, the "Evolution of Pulsed Lasers and Avalanche Photodiodes Enabling lidar Applications" presentation will detail how new sensor technologies are moving towards drive electronic integration, surface mount packages, arrays and readout electronics – improving the time-to-market for new lidar designs.
The LeddarTech Pavilion is designed to facilitate engagement amongst market leaders in lidar solutions for mobility applications. It is located at CP-16, in the outdoor exhibition area between the Skytrain station and the main exhibition halls, alongside high-profile names such as Google and Valeo.