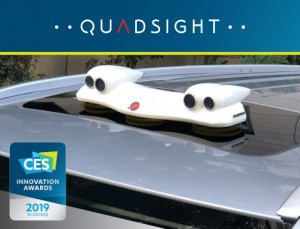 Foresight Autonomous Holdings, a CES 2019 Innovation Awards Honoree in the Vehicle Intelligence and Self-Driving Technology category, will showcase a live demonstration, streaming direct from Israel, of its QuadSight vision system designed for semi-autonomous and autonomous vehicles. Broadcasting during the evening hours in Israel, Foresight will demonstrate in real time how QuadSight detects any obstacle in darkness, fog, rain and blinding glare. The demonstration will be shown in booth #2206 at CES 2019, 8–11 January at the Westgate Las Vegas.
Targeted for the performance requirements of Level 3, 4 and 5 autonomous vehicles established by the Society of Automotive Engineers, QuadSight is designed to achieve all obstacle detection with near-zero false alerts under all weather and lighting conditions. Leveraging security technology and highly advanced image-processing algorithms, QuadSight enables visibility in complete darkness, snow, rain, fog, sandstorms and blinding glare. Foresight's quad-camera technology vision system fuses two pairs of long-wave infrared (LWIR) and visible-light stereoscopic cameras to perform in autonomous vehicle vision.
QuadSight combines both reflective visible-light stereoscopic and emissive thermal stereoscopic vision. While visible-light camera systems utilize the same or sometimes less information than the human eye, LWIR imaging adds another layer of information based not on visible light but on heat emissions. Essential for safety and reliability, stereoscopic vision technology produces three-dimensional (3D) images that result in object detection for semi-autonomous and autonomous vehicles.
At CES 2019, QuadSight will be demonstrated at Foresight's booth #2206 at Westgate Las Vegas. The QuadSight vision system demonstration will be broadcast live several times per day. The demonstration will be streamed to Foresight's booth from a test site in Israel, enabling a real-time driver's perspective. As a CES 2019 Innovation Awards Honoree, QuadSight will be on display at the CES Innovation Awards Showcase at Tech West, The Venetian, Venetian Ballroom E/F. A QuadSight prototype will also be on display at the FLIR booth #31166, LVCC South Hall.
The CES Innovation Awards is an annual competition that recognizes two levels of honorees across 28 product categories. A panel of judges, including designers, engineers and members of the tech media, reviews submissions based on design, functionality, consumer appeal, engineering and how the products compare with competition.