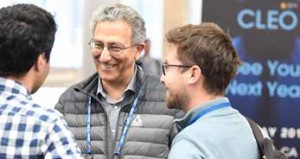 The Optical Society (OSA) announced that CLEO 2019 (CLEO) has concluded with 3,800 registrants, distinguished talks from Nobel Laureates and other notable speakers, an exhibition with 172 companies and 1,722 research and technical presentations. CLEO is the world's premier international forum to learn about innovative advances, research and new technologies from the laser science industry. With six days of technical sessions, special symposia, tutorials, short courses, professional advancement courses, business programming, workshops, exhibits and special events, CLEO highlights the latest research, applications and market-ready technologies in all areas of lasers and photonics.
Visionary presentations
"CLEO has been amazing with excellent attendance, visionary plenary speakers, a packed technical program including short courses, new workshops and special sessions celebrating diversity that were standing-room only," said Ben Eggleton, general co-chair of CLEO 2019. "The mood has been extremely positive, collaborative and progressive. As always the quality of science presented at CLEO is top-notch with a balance of fundamental science and technology, and benefits from excellent representation from thought leaders from academia, industry and national laboratories."
For the first time, CLEO featured topical workshops ranging from commercial application for optical frequency combs and universal quantum computing to initiatives to improving diversity in STEM. The CLEO technical program was composed of 27 topic categories on fundamental science, science and innovations, and applications and technology.
"The opportunity to interact with experts in the field, form partnerships and discuss new technologies in lasers and photonics continues to be a huge draw for CLEO attendees," said Michal Lipson, general co-chair of CLEO 2019. "The presentations, workshops and keynote programming cover a wide range of emerging trends that will have a significant impact on cutting-edge innovations."
Industry leading companies in lasers and electro-optics
Companies exhibiting at CLEO 2019 introduced new products and demonstrated new technologies at the industry-leading conference. Exhibitors included Coherent, MKS-Newport, OZ Optics, Altos Photonics, YSL Photonics, M Squared, PicoQuant, Menlo Systems, Thorlabs, Toptica Photonics and many others. The CLEO exhibit hall also featured workshops and presentations on marketplace trends in optics and photonics, quantum information science and technology initiatives and other topics of interest.
Plenary speakers
Donna Strickland, University of Waterloo, Canada
Nobel Laureate Donna Strickland discussed her award-winning research on chirped pulse amplification, also known as CPA, making new types of interactions possible between light and matter. In an attempt to reach ninth-order harmonic generation, she described collaborating with her thesis advisor Gérard Mourou to stretch, amplify and compress the laser, generating ultrashort high-intensity optical pulses.
Gérard Mourou, École Polytechnique, France
Extreme light-laser offers the possibility to shed light on some of the remaining unanswered questions in fundamental physics like the genesis of cosmic rays. Nobel Laureate Gérard Mourou described the capabilities of extreme light technology in advancing various fields including proton therapy, nuclear therapy and nuclear diagnostics.
Arthur Ashkin, Nobel Laureate, USA
In a video presentation, Arthur Ashkin described his groundbreaking work on optical tweezers and the method of using laser light to grab particles, atoms, molecules and living cells. Physicists and engineers have expanded the technique enabling optical tweezers to trap many particles at once. Ashkin noted that the tweezers are widely used to investigate biological systems and sort healthy cells from cancerous or infected cells.
Naomi J. Halas, Rice University, USA
In her plenary talk, Naomi Halas described how metallic nanoparticles have become a central tool in the nanoscale manipulation of light. Their photothermal heating and hot electron properties, she said, are useful in applications ranging from prostate cancer therapy to photocatalysis for producing chemicals.
Christopher Monroe, University of Maryland, USA and Chief Scientist, IonQ, Inc. USA
Individual atoms with unmatched coherence properties and reconfigurable circuits that are wired with laser beams are the highest quality components for a scalable quantum computer. Monroe discussed the critical role lasers and optics will play in this field.
Mial Warren, Vice President of Technology, TriLumina Corp., USA
Will there be a LIDAR in every garage? Mial Warren speculated on the race for automotive optical sensor supremacy as high-performance optoelectronic systems are integrated into automobiles. He explained the unique performance specifications that have emerged from the automotive industry and how they drive the technology.
Chris Xu, Cornell University, USA
Ultrafast lasers are pushing the boundaries of brain imaging. Chris Xu described how nonlinear optical microscopy enables large-scale, non-invasive monitoring of brain activity in live animals and the role it will play in understanding how brains work.
CLEO 2020
Save the date for CLEO 2020, 10 – 15 May at the San Jose McEnery Convention Center in San Jose, California, USA.