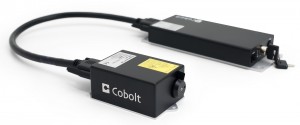 Cobolt, a part of Hübner Photonics, has added the new wavelength of 640 nm to the Cobolt 05-01 Series of single-frequency lasers. With up to 500 mW and a linewidth of <1 MHz, the Cobolt Bolero is designed for holographic and advanced interferometric applications. The Cobolt Bolero complements Cobolt's current offering of RGB single-frequency lasers: Cobolt Flamenco 660 nm, with up to 500 mW; Cobolt Samba 532 nm, with up to 1.5 W and Cobolt Twist 457 nm, with up to 200 mW.
All Cobolt lasers are manufactured using proprietary HTCure technology and the resulting compact hermetically sealed package, which provides immunity to varying environmental conditions along with reliability. Lasers built using HTCure have been shown to withstand multiple 60-G mechanical shocks in operation without any sign of degraded performance.
With demonstrated lifetime capability of >60000 hours and several thousand units installed in the field, it maker says Cobolt lasers have proven their reliability and performance both in laboratory and industrial environments.