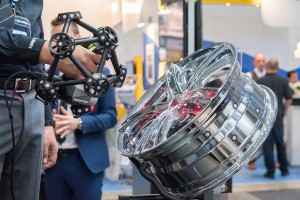 A record number of 942 exhibitors showed their latest products in quality assurance during the 31st Control in Stuttgart. About one third of them came from abroad, the majority of them from China, France, UK and Ireland, Italy, Switzerland and the United States, according to Gitta Schlaak, project manager of Control.
Similar to the previous year, the integration of metrology and machine vision became obvious at the show. Baumer presented a new generation of VeriSens vision sensors with integrated Industrial Ethernet interface capable to either double the number of inspected objects or the number of feature inspections due to the significantly increased processing power.
ISRA VISION presented its new generation of white light interferometer (WLI) for contactless 3D inline measurements,which comes in various configurations for taking color images, conducting batch-type quality inspection or measuring particularly large components. NetGAGE3D now achieves 4-times faster scanning thanks to a new method and an integrated processor. Depths such as boreholes, channels and etched structures can be measured without any shadows.
SAC made a show premiere by closing the 3D gap in the segment of digital video inspection systems presenting its 3D video inspection system maXee 3D, which comes without a separate PC. The live picture is taken by a digital camera and displayed enlarged on a monitor.
France-based imaging software specialist Digital Surf has brought to market release 7.4 of its Mountains-software for profiler and microscopy with new functions including improved zoom, 3D printing and 3D imaging options. STIL, another French company, showed its Chromaline camera that does not require autofocus and is totally impervious to vibrations, which together with its line acquisition of up to 100 KHz is a major advantage for integration on a production line.
EVT presented the EyeFI sensor for inspection of filaments and has talked about cooperation with VRmagic to develop a new laser triangulation sensor which is being supported by the EVT Eye Vision 3D software.
Omni Control Prüfsysteme showed a type recognition system based on a 3D camera suitable for object sized between 5 – 500 cm for typical applications such as pick&place, automatic control or robot-assisted assembly. New parts can be taught into the PC-based system by the user.
Zeiss traditionally takes CONTROL to present corporate news in all B2B sectors of the group and once again has made a step further into Industry 4.0 integration of its products. Their next step on the mission to Industry 4.0 is to convert the masses of data that will be generated along the production process – a phenomenon that has been named "digital shadow" elsewhere on the show ground – into useful information. For this, Zeiss has created a platform called PiWeb that connects to all partners in the value chain and takes this serious enough to even create a new business unit "Quality Software Intelligence". With respect to data security Zeiss has announced at CONTROL 2017 its new partnership with Cisco to develop a secure data transformation platform that connects Zeiss measurement systems during operation with superordinate systems in the Industry 4.0 environment. The two companies lay the groundwork to enable measuring instruments to connect directly to superior IoT systems at a global level and with integrated security. An interesting remark came with regards to data management through cloud applications: Here, Zeiss stated that the discussion has been de-emotionalized and cloud solutions have become a technological alternative. Finally, Zeiss has developed correlation-free measurement: Through the use of cameras installed above an inspection cell all possible deviations in the measurement process e.g. caused by temperature changes on a robot arm are detected and discounted through intelligent algorithms which makes time consuming reference measurements redundant.
All quality assurance experts can mark the date for the 32nd Control, which will take place a bit earlier in the year, from 24 – 27 April, 2018.
Written by Andreas Breyer, Senior Editor, Germany, Novus Light Technologies Today