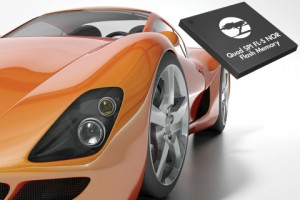 Cypress Semiconductor Corp., today announced that global automotive supplier DENSO Corporation has selected Cypress' 6-Channel Automotive PMIC and FL-S Serial NOR Flash memory solution to enable the latest stereo vision sensor for Advanced Driver Assistance Systems (ADAS). The DENSO stereo vision sensor uses image processing techniques to detect obstacles of different shapes and lane lines, as well as empty spaces on the road. This supports autonomous emergency braking and automatic steering control to avoid obstacles. Cypress' highly-integrated, 6-Channel automotive PMIC regulates power for the entire sensor, and the FL-S NOR Flash memory enables fast program execution for high-performance systems. Each device has a small footprint that makes the solution ideal for this compact design.
Cypress enables leading-edge automotive systems
Cypress works with the world's top automotive companies to bring leading-edge automotive systems typical of luxury models to mainstream vehicles, including Advanced Driver Assistance Systems (ADAS), 3-D graphics displays, wireless connectivity, full-featured touchscreens and superior body electronics. Cypress' automotive portfolio includes the Traveo MCU family, power-management ICs (PMICs), PSoC programmable system-on-chip solutions, CapSense® capacitive-sensing solutions,
TrueTouch touchscreens, NOR flash, F-RAM and SRAM memories, and USB, Wi-Fi and Bluetooth® connectivity solutions. The portfolio is backed by Cypress' commitment to zero defects, excellent service and adherence to the most stringent industry standards, such as the ISO/TS 16949 quality management system, the Automotive Electronics Council (AEC) guidelines for ICs and the Production Part Approval Process (PPAP).