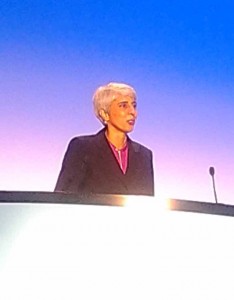 Dr. Arati Prabhakar was the symposium-wide speaker at the plenary presentation last night at the SPIE Defense, Security + Sensing 2013. Dr. Prabhakar is currently the Director of the Defense Advanced Research Projects Agency (DARPA), and not surprisingly, she has an impressive resume, having spent her career investing in world-class engineers and scientists to create new technologies and businesses.
She joined DARPA in 1986 as a program manager. Prior to that, she initiated and managed programs in advanced semiconductor technology and flexible manufacturing, as well as demonstration projects to insert new semiconductor technologies into military systems. In 1993, she became the first female director of the National Institute of Standards and Technology (NIST). She was also the first female to earn a Doctor of Philosophy in applied physics and Master of Science in electrical engineering from the California Institute of Technology.
Pivotal early investments
In referring to the title of her keynote "Driving Technological Surprise," Dr. Prabhakar said that DARPA has "prevented technological surprise by creating some of our own." As an example, she noted that our soldiers now "own the night" due to infrared (IR) night vision. For each technology, such as IR, DARPA made pivotal early investments and showed what was possible by demonstrating a breakthrough and its capabilities for national security.
While the threats to national security have changed some, for example, today the actors can be individuals and groups and the warfare can range from cyber to nuclear to chemical to biological and more, DARPA's goals have remained the same in its 55 years in existence. A basic goal is to catalyse new national technology capabilities, and this is done by first exploiting commercially available technologies as well as from fertile research areas, she said. As an example looking to both commercially available technologies and those in research stages, she said they're increasingly enlisting technology derived from the biological sciences to take on new challenges.
Layering technologies
The approaches that DARPA takes include using game-changing systems technology and adaptable systems and solutions. She said that what she anticipates seeing more of in the future is the use of layering multiple technologies to develop war-fighting concepts.
She highlighted some DARPA projects that are making use of that layered approach. The Phoenix space-based program, for example, is using robots in outer space that try to recapture and repurpose material from dead satellites. The HALOE (High-Altitude LiDAR Operations Experiment) is a 3D holographic technology demonstration program takes 3D images over a vast area. She showed images taken from a high altitude revealing a pathway on a mountainside. She also talked about advanced night vision that combines LWIR, SWIR and VNIR fused into one image, "showing," she said, "what is possible in multispectral imaging."
As examples of robotic-based projects, she showed a video of a robotic mule following an individual over rough terrain, carrying a heavy load. She also showed a robot from Boston Dynamics that was running on a treadmill at up to 30 mph, displaying what she called "maximum mobility and manipulation" as technology pushes further into autonomy. And to illustrate a DARPA-based study of brain function and prosthetics, she shared a clip from a 60 Minutes segment that showed a quadriplegic woman who could operate robotic arms by her own brain function.
In concluding, she noted that an expanding DARPA theme is that "the best way to think outside the box is by actively reaching out to the best and the smartest." When asked how important optics and photonics are to DARPA's work, she replied, "Please bring us your great ideas!" Clearly DARPA is already heavily involved with layering multiple technologies for great advancements.
Written by Anne Fischer, Managing Editor, Novus Light Technologies Today