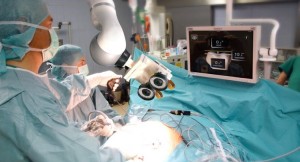 Whether it's removing a cancerous tumor in the brain or conducting a routine surgical procedure, detailed images can help a surgeon see the patient's anatomy and pinpoint tissue for removal. The last few decades have seen giant leaps ahead in this area, and image-guided surgery is now used for a wide variety of application both preoperatively and during the surgery itself. Imaging is also an extremely important part of disease diagnosis and treatment monitoring.
Globally, the image guided surgery devices market, which hit $2.76 billion in 2013, is predicted to reach $4.80 billion in 2022, according to a new report from Transparency Market Research. An increasing demand for enhanced healthcare facilities and the rising healthcare expenditure globally are helping to fuel this growing market.
A market report from Allied Market Research, points to the Asia-Pacific as an untapped medical imaging market that is expected to show faster growth in the coming years. Although a shortage of helium and the high cost of imaging technology might bring some hurdles, this emerging market is likely to exhibit increased demand for diagnostic imaging devices because of large numbers of undiagnosed patients, rapid urbanization, increases in disposable income, improved government funding towards chronic disorders, and growing awareness about early diagnosis of diseases.
The growing Asia-Pacific market is making it even more important for companies to seek accreditation by national health ministries in the region. Calgary Scientific Inc. recently announced that its ResolutionMD medical imaging software is registered by the Ministry of Health and Welfare of Taiwan for diagnosis using both web and mobile devices. This registration allows the software to be used across all major population centers in Asia.
Focusing on cancer
Major governmental initiatives around the world are helping to drive advances in medical imaging. For example, in the U.S., the $1 billion Cancer Moonshot initiative to accelerate cancer research to make more therapies available to more patients and improve cancer prevention and early detection. In support of the Cancer Moonshot initiative, the National Photonics Initiative (NPI), an alliance of top scientific societies uniting industry and academia to raise awareness of photonics, has mobilized thought leaders from academic institutions, patient organizations, hospitals and the medical device industry.
NPI recently published a white paper and cancer technology road map that details a commitment made by the scientific community, the medical technology industry, over 350 hospitals and major patient advocacy groups to leverage more than $3 billion in annual private investments in cancer research toward early detection technologies of the most aggressive cancers. This type of commitment to non-invasive photonics techniques and imaging technology will bring major advances that will help save lives around the world. (Read more in Photonics Technologies Receive $3B in Funding for Cancer Detection.)
One new breast cancer imaging technology moving closer to the clinic is Lumicell's LUM Imaging System, which consists of an optical contrast agent and imaging device. The system helps surgeons remove all cancer cells during the first surgery. Every year more than 60,000 women undergoing lumpectomy must undergo a second surgery to remove additional cancer cells. In addition to the hardship these extra surgeries bring for the patients, they are estimated to cost the healthcare system close to $1 billion each year. A recently completed feasibility study tested the LUM Imaging System in human cancers. It showed that the system could distinguish between tumor and normal tissue without affecting pre-operative or surgical workflow and that it could detect all the residual cancer cells. Based on these results, the feasibility study is being expanded into a larger group of breast cancer patients.
Doing more with MRI
MRI technology, long the workhorse of medical imaging, is now being combined with other technologies to make the imaging modality even more useful. For example, MRI guidance is being combined with laser heat to treat prostate cancer. UCLA researchers recently reported that precisely applying heat via laser is a feasible and safe treatment for men with intermediate risk prostate cancer. The Phase 1 study, published in the Journal of Urology, found no serious adverse effects or changes in urinary or sexual function six months after the procedure. The researchers used MRI to guide a laser fiber into cancerous tumors that are destroyed when heated by the laser (read more in MRI-Guided Focal Laser Ablation: Viable prostate cancer treatment).
Researchers at Boston Children's Hospital have reprogrammed an MRI so that it can be used to simultaneously image and steer drugs labeled with magnetized particles to a desired location. Their changes allow a clinical MR scanner to propel particles with much higher steering forces at a given imaging rate. In laboratory testing, the team successfully navigated a millimeter-scale particle through a branching vascular network.
Written by Nancy Lamontagne, Contributing Editor, Novus Light Technologies Today