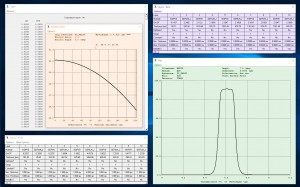 Coating design services from Deposition Sciences enable optical system developers to access the company's design and fabrication experience to obtain thin-film designs that are tailored to meet the specific optical performance, durability and cost targets required for their new product. DSI will deliver a report detailing the theoretical design performance of all key attributes, a manufacturability analysis and performance specifications with tolerances that DSI can guarantee in manufacturing. Thus, the end result is not simply a theoretical design, but a practical recipe that can be manufactured.
DSI coating design and feasibility study
Additionally, in a DSI coating design and feasibility study, spectral performance is only part of the equation. Numerous other factors are also taken into consideration during the design process, including operating environment, substrate shape and size, and even post-coating flatness or figure. Plus, DSI has experience designing various types of thin film (antireflection, high reflection, partial reflection, bandpass, etc.) over a spectral range covering the ultraviolet through the far infrared. The company's physicists and optical engineers employ a comprehensive suite of state-of-the-art software and analysis tools, including TfCalc, Optilayer, Film Wizard and Essential Macleod, to perform the design and analysis to deliver a practical, real-world coating.