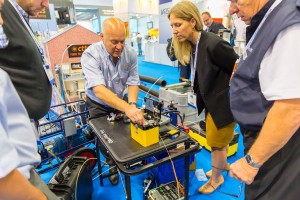 Remote sensing, bio-medical applications, consumer products and free space optics will be among the latest trends discussed at this year's European Conference on Optical Communications Exhibition (ECOC), with a New Markets Track set to run for the first time as part of the event's Market Focus.
Taking place at the Fiera Roma in Rome, Italy, from Monday, 24 September to Wednesday, 26 September 26, organizer Nexus Media Events is now accepting speaker applications. Other topics on the agenda include 5G, the IoT, FTTx, 100G and 400G transmission standards, and optics in cloud computing. Less than 10 exhibition stands are remaining.
Full list of topics for Market Focus
Service and content provider optical transmission
Optical Network Agility/Software-Defined Networks,
Datacentres: Optics in Cloud Computing
New markets
Photonics integration and digital silicon photonics
Fibre access.
The topics have been decided by the Market Focus Committee, which includes global representatives from across the industry including independent industry bodies, telecom operators, analyst groups, system vendors, and component manufacturers.
In addition to Market Focus, the 2018 FTTx Village will host a variety of innovative and cutting-edge demonstrations of the very latest technologies in fibre optic communications, with interactive fibre optic network delivery methods being showcased live from the event.