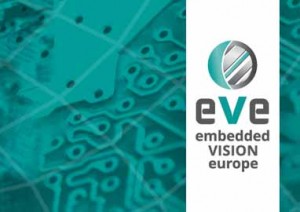 Embedded Vision Europe takes place October 24 and 25 in Stuttgart, Germany. Besides the networking opportunity, Embedded Vision Europe offers a program starting with the opening keynote given by David Austin, Senior Principal Engineer at Intel Corp. The following two speakers have also confirmed their presence at Embedded Vision Europe:
Gion-Pitschen Gross, Product Manager at Allied Vision, 'How to set up an embedded system for industrial embedded vision' Gion-Pitschen Gross is a product manager by heart and an engineer by trade. He received his MSc in Electrical Engineering from the Swiss Institute of Technology in Zürich. After some time in Research and Development at OC Oerlikon, a Swiss technology conglomerate, he became product manager. Gion-Pitschen Gross has been working for Allied Vision since 2016 and has been responsible for a wide range of products from short-wave infrared cameras to a portfolio of GigE cameras. Since last year he is responsible for the new Alvium Camera Series which bridges the gap between machine and embedded vision.
Vassilis Tsagaris, CEO at Irida Labs, 'An holistic embedded vision approach: looking beyond the deep learning models' Vassilis Tsagaris founded Irida Labs in 2009 with the aim to bridge the gap between a camera and a human eye by bringing visual perception to any device, making embedded computer vision accessible to everyone. Today, as CEO of Irida Labs he is responsible for corporate strategy, business partnerships and business development worldwide. Irida Labs is partnered with large international companies like Qualcomm, Cadence and CEVA (all NASDAQ listed) and has a client basis in Europe, China and USA. Prior founding IRIDA Labs, he has worked as a researcher, post-doc researcher or project manager for about ten European and National R&D projects for the academic and company sector. He has BSc. In Physics and a PhD in Computer Vision and Data Fusion from the University of Patras, Greece, and has published more than 30 journal and conference papers).
Confirmed exhibitors include Active Silicon, Allied Vision, Baumer, Gidel, Phytec and Vision Components, with more to come.