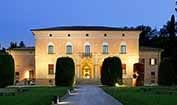 Today is the final day to get the early bird discount for the 3rd European Machine Vision Forum, to be held September 5 to 7 in Bologna, Italy. Register directly on the EMVA website.
Details are now finalized – see all keynote and contributed talks here.
The forum starts with an "Italian Evening" on Wednesday, September 5, where companies, institutes and universities of Northern Italy have the chance to present themselves.
On Thursday and Friday, plenary sessions will be held with carefully selected contributed and invited talks, extended coffee and lunch breaks, an evening session for networking on Thursday, September 6, poster presentations as well as hard- and software demonstrations. The event will end with a panel discussion on Friday, September 7.

The European Machine Vision Association (EMVA) has launched this event in 2016 to foster interaction between the machine vision industry and academic research so that innovations can be transferred into practice faster. The aim is to learn from each other, discuss the newest research results relevant for industry as well as problems from applications, learn about emerging application fields, and to discuss research cooperation between industry and academic institutes.