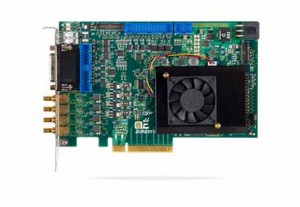 Euresys officially announced the addition of the Coaxlink Quad CXP-12, a 4-connection CXP-12 frame grabber, to its existing Coaxlink series. A major feature of this new product is the increase of the maximum connection bit rate to 12.5 Gbps. Currently, the maximum data rate over a single connection is 6.25 Gbps.

This innovation results in a maximum camera data transfer rate over 4 connections of 5 GByte/s allowing operation of a 10-bit 12-megapixel area-scan sensor at more than three hundred images per second, or an 8-bit 16k line-scan sensor at 300 thousand lines/s.
This new member of the Coaxlink series comes with a Gen 3 x8 bus offering a peak delivery bandwidth of 7.8 GByte/s. The effective delivery bandwidth being of 6.7 GByte/s.
Coaxlink Quad CXP-12 provides more bandwidth than four Camera Link Full frame grabbers, in a single slot. The numerous applications of the new Coaxlink Quad CXP-12 include among others, AOI, 3D SPI, 3D inspection, printing inspection and in-vehicle video transfer.