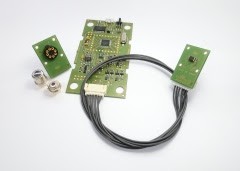 Excelitas Technologies Corp., a specialist in customized photonic solutions, announced its new IR Sensor Demo Kit, which facilitates the comparative evaluation of infrared temperature, motion and presence detectors. Its universal board easily connects a wide range of Excelitas IR sensors to developer PCs via a USB interface to enable quick, reliable testing for OEMs looking to integrate sensors into their innovative consumer, IOT and smart home products.
Supporting both thermopile and pyroelectric sensors, the new Excelitas IR Sensor Demo Kit consists of an interface board, sensor adapters and user-friendly software. All basic parameters are accessible in the accompanied Windows software for thorough examination of different types of sensors. Suitable adapter boards either feature sensor-specific sockets or, in the case of SMD products, are supplied with sensors soldered onto the board.
For fast development of pure CaliPile applications, Excelitas also offers simplified evaluation software specifically for this sensor family in addition to the comprehensive multi-sensor demo kit software.
Excelitas IR Sensing Solutions will be on display at Sensors Expo, June 26-27, 2019 in San Jose, California (US). Visit Excelitas booth #930.