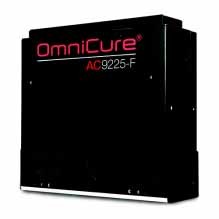 Excelitas Technologies Corp., a global technology leader focused on delivering innovative, customized photonic solutions, today introduced the latest addition to its popular OmniCure product line – the OmniCure AC9225-F UV LED Curing System. Ideal for fiber coating or marking applications, the new air-cooled OmniCure AC9225-F delivers up to 20W/cm2irradiance at a 10-15mm working distance. The system features a custom optical design to optimize delivery of UV onto the fiber, thus allowing for efficient curing and faster line speeds with greatly reduced electrical power consumption compared to traditional lamp solutions.
The AC9225-F platform shares the same mechanical enclosure as its AC8225-F+ predecessor, while boasting higher output to enable faster process speeds. The ability to leverage existing mechanical enclosures allows customers to easily upgrade to enhance performance and line speeds without complex integration changes.
AC9225-F also includes an optional replaceable window for added robustness and protection from contamination, while allowing for multiple units to be adjoined without compromising uniformity between each curing system.
Excelitas' OmniCure AC9225-F UV LED Curing System will make its debut at IWCS (Booth #129) from October 15 –16 in Providence, Rhode Island (US).