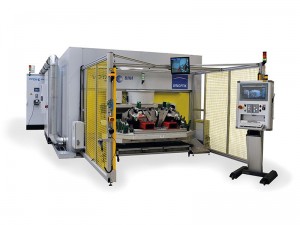 At Fabtech, North America's largest trade show for metal processing technology, Jenoptik will demonstrate its laser machine series for 3D metal cutting. Hall North 2, booth 6087 from November 9 to 12 at McCormick Place in Chicago, Illinois (US).
Laser cutting allows a highly efficient processing of complex metal parts. The non-contact process minimizes costs caused by set-up time or tool wear. JENOPTIK-VOTAN BIM is designed for processing of a variety of metal working parts, even if the manufacturer processes on only one laser machine, because there is no need to use special cutting dies as during the conventional processing. With a repeat accuracy of up to 50 µm, this laser machine ranks among the most precise systems of its class. Moreover, the axis movements of the robot's laser arm are up to 60% faster than the ones of the current robot standards, thus allowing for a significantly shorter cycle time compared to other robot systems.

The system concept of the JENOPTIK-VOTAN BIM series is based on a beam guide inside the robot. This allows using laser sources with a power of up to 4 kW without having to use a complex external beam guide. At the same time, the equidistant beam path prevents the laser beam from pumping effects, ensuring a stable beam quality. This approach allows Jenoptik to deliver its customers a technological competitive advantage.

With its metal cutting laser machine series, Jenoptik serves the automotive industry by cutting e.g. complex car body and structural parts as well as hydroformed tubes, being used for exhaust systems or car body rail manufacturing. JENOPTIK-VOTAN BIM is simple to integrate into production lines or combined processing units.

Watch a live demonstration of the robot at Jenoptik's booth 6087 in Hall North 2 at the Fabtech trade show from 9 to 12 November.