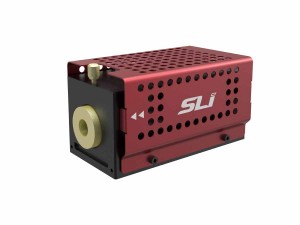 The new Mighty Light from Spectrolight is a turnkey, compact source of broadband light based on a high power tungsten-halogen lamp which is ideal for microscopy, machine vision, photovoltaic research and testing, and other diverse illumination applications. With a nominal color temperature of 2900K, the Mighty Light provides over 2 watts of low-noise, white light output spanning the visible through near infrared spectral regions (400 nm ~ 2.5 µm). Yet, the entire package, including the lamp, power supply and custom low noise control board, measures only 125 x 75 x 70 mm. This unique power controller ensures extremely low (~0.5%) output noise. Moreover, the aluminum housing is convection cooled, eliminating the complexity and vibrations of cooling fans or water cooling.
The Mighty Light is designed as a modular product in order to support a very wide range of applications; several modular accessories utilize simple bolt-on functionality with no need for special alignment. These include a collimator and diffuser accessory that yields a white light beam with (~5Ë) divergence. The collimator can then be optionally coupled to one of Spectrolight's patented wavelength selector devices to provide a large area circular beam of filtered light with tunable center wavelength and adjustable bandwidth. Another accessory provides simple coupling into a multi-mode fiber via a standard SMA connector. Plus, a microscope adapter enables the lamp output to be used in virtually any commercial optical microscope.
Many photonic applications need a broadband or widely tunable light source, but without the high cost of a laser-based system such as a super-continuum generator. A tungsten halogen lamp is ideal for these applications, except for two practical challenges. First, the lamp output is very sensitive to power supply noise and, second, the large output angle does not interface easily with several applications. The Mighty Light is a turnkey modular approach that simultaneously solves both of these challenges.